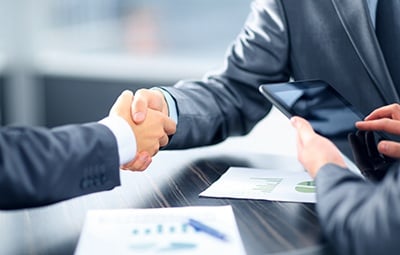 Vrakas/Blum Computer Consulting, Inc. (VBCC) has a long history of forming alliances with companies across the country, capitalizing on the talents and specialties of both firms. We work with software resellers and accounting and consulting firms to deliver a full array of products and services. We respect your client relationships and build a mutually beneficial alliance between our firms.
What is an Alliance Partnership?
We offer different types of Alliances and can tailor a relationship to your needs. With a typical partnership we provide:
Sage 100cloud Manufacturing (JobOps)

We provide Sage 100cloud Manufacturing selection, implementation and support services. As a Sage 100/Sage 100cloud business partner, you provide all other Sage 100/Sage 100cloud implementation and support to your clients.
Sage Relationship

If you are a Sage 100/Sage 100cloud partner who wants to focus on service only, you can align your clients with us for a mutually beneficial relationship. We provide you with Sage updates and you can focus on serving your clients.
Sage 100cloud / Sage 100 Service, Support and Help Desk

If you are a Sage 100/Sage 100cloud partner who would like to retire, go on vacation or fill a support gap, we provide Sage 100cloud / Sage 100 (formerly Sage MAS 90 and MAS 200) and Sage 100cloud Manufacturing service and support.

We provide assistance for temporary staffing issues such as maternity/paternity leave, during a vacation or due to employee turnover.
We can be your help desk on a full-time basis and relieve you of that burden.
We can appear as a seamless extension of your business and all billings can be run through you. Or if you prefer, we can bill clients directly.
Clients can call us directly or be routed to us from your receptionist.
We can assist with advanced functions such as Credit Card Processing, Shipping Integration, Visual Integrator, and Business Alerts components.
Why Partner With VBCC?
We have developed strategic alliances with many resellers across the country and have built an impeccable reputation for integrity and for delivering a high level of service.
We employ seven Certified Sage 100cloud Manufacturing Consultants
We are the All-Time Sage 100cloud Manufacturing Sales Leader
#1 JobOps Solution Provider in the country from 2006 through 2017.
Our consultants have been involved in a large percentage of all Sage 100cloud Manufacturing installations nationwide.
We are very experienced with the Sage 100cloud Manufacturing Product Configurator.
We offer common sense and real-world solutions to our clients due to extensive implementation and industry experience.
We have supported Sage 100cloud Manufacturing implementations in the majority of states across the country.
All of our help desk consultants are certified in both Sage 100/Sage 100cloud and Sage 100cloud Manufacturing.
Our regular help desk hours are from 7:00 am to 5:00 pm CST. After hours and weekend support is available.
Ready to learn more? Call Joe Jenders at 262-797-0400.
---