Recorded Session from 2021 User Conference
Learn More About Sage Data & Analytics
Sage Data & Analytics, powered by ZAP Data Hub, for Sage 100 is the best-priced data management, BI, and analytics solution for Sage 100. Get fast, efficient financial and operational reporting. Add insight from additional data sources like CRMs, add-ons, and Excel. And enjoy a no-code alternative to hand-built data warehouses and data management.

Data Management & Analytics In-A-Box
Automated: Quickly gather data from Sage Data & Analytics for Sage 100, all add-ons, and all other data sources like your CRM, Excel, and legacy systems
Ready-made: Visualize, interpret, and action data with our extensive range of reports, dashboards, statements, and analytics
Flexible: Pay only for the online storage needed for the portions of your data required for financial and operational reporting

Designed for Instant Insight
Instant analysis: Interactive sales dashboards, graphical cashflow analysis, detailed and trusted P&L reports, and more - all out of the box
Access on-the-go: Easy access through a responsive browser-based application, Sage Data & Analytics for Sage 100 is optimized for desktop and mobile

Time savings:

Microsoft Azure-based and with maintenance and upgrades all automated, so focus on insight, not infrastructure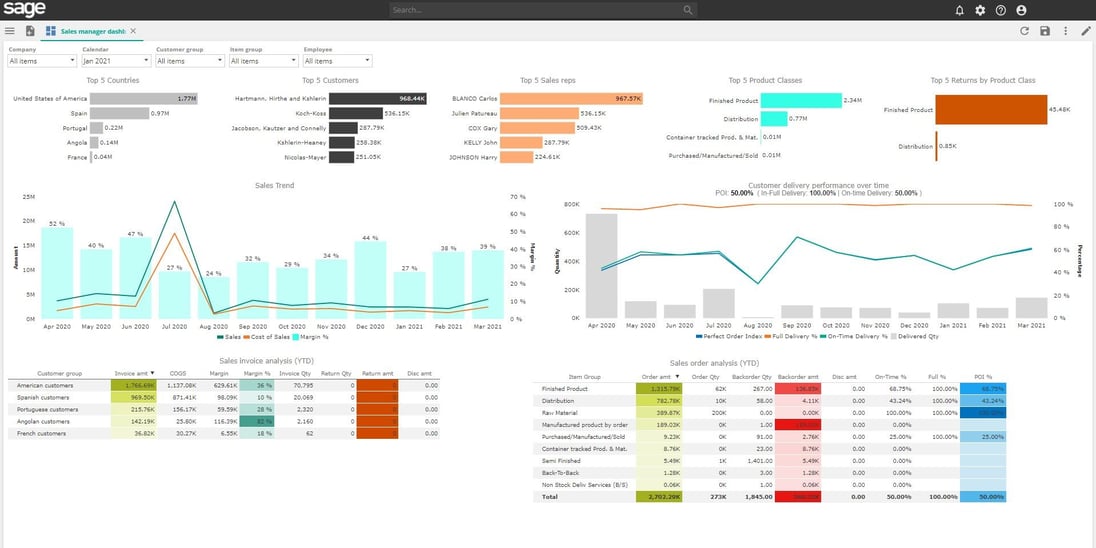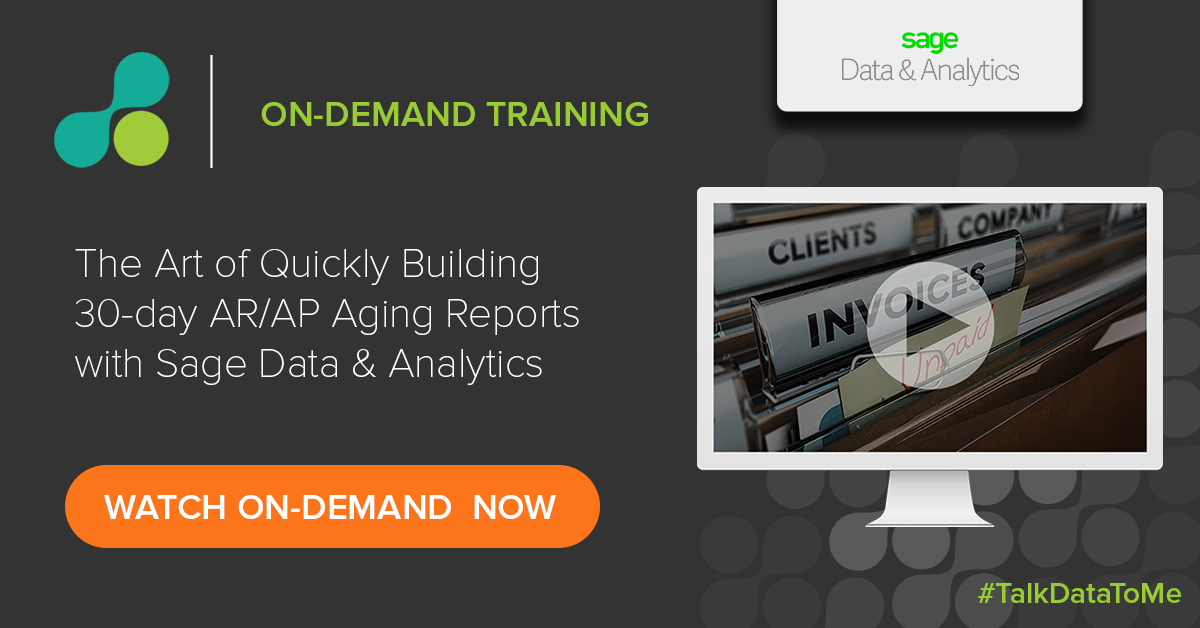 Learn how you can quickly build the very gauge your company needs to determine the financial health of your customers.
Sage Data & Analytics for Sage 100
is the best-priced analytics solution for Sage 100, and is available in three packages:
Standard Edition
Advanced Edition
Premium Edition

An entry-level plan for basic and auto-refreshed reporting in the cloud




✔ All modules (pre-built)
✔ Analytics design & distribution
✔ Maintenance & Support

Data from across your organization
✔ Cloud storage of up to 10GB*
✔ Data from up to 2 companies
✔ 1 Scheduled refresh per day

Access for your whole team
✔ 1 BI designer (report author) seats
✔10 BI consumer (report reader) seats

Extras available including
✔ Additional consumer seats
✔ Additional data storage

A plan for more advanced analytics and data design scenarios with a partner


✔ All modules (pre-built)




✔ Analytics design & distribution




✔ Maintenance & Support



Data from across your organization


✔ Cloud storage of up to 35GB*




✔ Data from up to 5 companies




✔ 1 Scheduled refresh per day



Access for your whole team


✔ 2 BI designer (report author) seats




✔15 BI consumer (report reader) seats



Extras available as Standard, plus:


✔ Data model design




✔ Additional data source connections

For enterprise deployments, including the ability to connect to Power BI if required
✔ All modules (pre-built)
✔ Analytics design & distribution
✔ Maintenance & Support
✔ Data Model Design
✔ Power BI integration available

Data from across your organization
✔ Cloud storage of up to 75GB*
✔ Data from unlimited companies
✔ 1 Scheduled refresh per day

Access for your whole team
✔ 4 BI designer (report author) seats
✔30 BI consumer (report reader) seats
✔ Plus additional designer seats also available if required