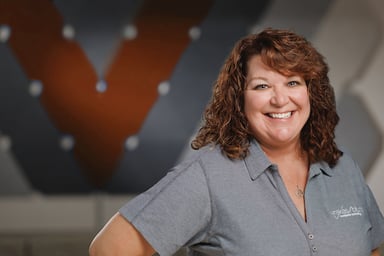 Buffy Lubinski
Senior Consultant
Direct Phone: 262-798-7674 | Email me at: blubinski@v-bcc.com
Buffy joined the VBCC team in 2005 with prior experiences giving her a deep understanding of the functionality and application of the Sage 100 and JobOps software. As Senior Consultant, Buffy specializes in implementation, troubleshooting, form and report design, data conversion, technical support, and end-user training. In addition, she assists various clients with developing, implementing, and utilizing software solutions. Buffy works with a variety of industries and specializes in manufacturing, custom order, service, and installation companies.
Buffy is Sage 100, JobOps, BusinessWorks and Platinum for Windows certified.
Buffy brings a wealth of knowledge to the team with her additional twenty years of experience as a quality assurance manager, manufacturing systems analyst and regulatory compliance agent. Her vast background in manufacturing helps her understand her client's processes and provide the best support possible.
---
Let our clients tell you about Buffy:

I would like to personally thank Buffy for being a part of 'our team'. I sincerely appreciate her responsiveness, her knowledge and her sense of humor! We are very pleased with her ability to fix our issues each time we reach out. She is amazing!"

Buffy is a great help every time I call. She is very knowledgeable about the product she services. Very friendly, Excellent service and an awesome person."