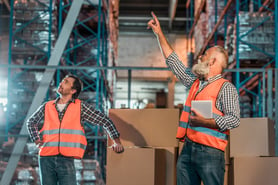 The current global pandemic has affected life in many unexpected ways. For manufacturers, it put a laser focus on how tenuous the manufacturing supply chain can be. If you're losing sleep worrying about the next big disruption to your inventory needs, it may be time to look at how Sage 100cloud Sage Operations Management and a supply chain back-up plan can help.
If you're looking to handle disruptive events more smoothly, it's not enough to think about supply chain strategy conventionally. You'll need to rethink logistical strategy and manage supply chains in a way where you're anticipating disruption rather than reacting to it.
The Effect on Supply Chains
According to Gartner, we can expect to see, or are already experiencing, the following impact on supply chains:
A shortage of materials: Your established hubs and supply networks could experience issues when it comes to capacity and availability, so your materials could get stuck, especially if you have difficulties finding new routes and modes of transportation.

A lack of finished goods sourced from impacted areas: Finding new business or making new agreements is challenging with restricted travel in affected areas.

A reduction of available labor or capacity: If your company operates in an affected area, you may face challenges finding people to work because of quarantine protocols. In most countries, travel is limited, with social distancing and quarantine requirements significantly affecting labor, which then leads to inevitable logistical challenges.
Contingency Planning Checklist
Here are some steps you can put in place now to ensure your company is as prepared as possible:
Complete a scenario planning exercise and then create action plans with steps to diversify your supply chain and source alternative suppliers.

Clearly understand or even document your suppliers' processes including those upstream and several tiers back. If you don't, your business could be hindered or completely incapable of reacting.

Identify your critical vulnerabilities. Your supply chain may have a dependency that puts your business at risk if an issue occurs. If a significant problem takes place, such as your supplier going out of business or shutting down temporarily, you'll be left with unhappy customers and no way to generate revenue.
Rethinking the Design of Your Supply Chain
Like never before, we are in an era of digital transformation where businesses must be responsive and resilient in dealing with unexpected changes. Redesigning your supply chain is a complex undertaking. But having a backup for supply, production and distribution means you reduce the risk of your entire supply being disrupted.
The most successful companies seek automation for responding to supply chain disruptions. With Sage 100cloud, you'll get active notifications when inventory running low and you can proactively see what orders will be disrupted or have critical dependencies.
It's impossible to anticipate the arrival of global crises such as coronavirus, but businesses can mitigate their impact by improving their supply chain preparedness. By putting the right plans in place before a disruption occurs, and testing and learning before the fact, you'll put your business in the best possible position to keep moving forward towards recovery.
Put Sage 100cloud with Sage Operations Management to work and start optimizing production, customer service, and on-time delivery. The combination of Sage 100cloud Manufacturing with the powerful financial management capabilities of Sage 100cloud helps you deliver orders on time, within budget and with insight across the complete product lifecycle.
Vrakas/Blum Computer Consulting is the Number One Manufacturing Solution Partner for 14 years running. Our collective experience can save you time and create efficiencies with Sage 100cloud manufacturing software. Contact Vrakas/Blum Computer Consulting today!