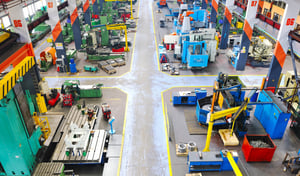 The most successful manufacturers automate critical business processes using a modern business management solution that ties sales, marketing, finance, and operations together in a single source of truth across their organizations. Sage 100cloud discrete manufacturing software (Sage Operations Management FKA JobOps) offers complete visibility into your critical financial and operational data. Let's take a closer look at why that matters and how to achieve it.
Understand Your Costs
Having a complete understanding of your labor, materials and equipment costs ultimately means that you can accurately make decisions. Your manufacturing environment is constantly changing, it's crucial to have real-time access to capacity, inventory, and other costs data to generate accurate quotes that protect profitability based on real-time pricing, availability, and production schedules.
Adapt in Real-Time
Manufacturers must be prepared for any scenario because it's difficult to anticipate what may be coming. Material availability, shipment delays, labor issues, or downtime can have cascading and negative effects on your ability to deliver on time. With a real-time view of your production cycle, you can make quick adjustments and communicate job status to customers.
Sage Operations Management has unique features designed to optimize your discrete manufacturing operations. Here are some highlights:
Inventory planning - assess demand quickly based on sales and receive alerts for re-ordering and production requirements
Inventory advice - collect, collate, and process your inventory data seamlessly in real-time and gain deep competitive insight
Workflows and alerts - streamline routine manual processes to save time for growing your business
Product configuration- quickly create accurate estimates and sales orders, as well as

a

comprehensive work tickets
Insight-driven Decisions
No two manufacturing processes are alike, so Sage 100cloud with Sage Operations Management is built to meet the specific needs of your business from financial management to inventory management. Your workflows, cross-functional data sharing, and reporting operate seamlessly to help you make not just data-driven, but insight-driven business decisions. And with a comprehensive portfolio of add-on solutions, you can be sure that you can support your unique business needs.
Focus on Growth
Sage 100cloud with Sage Operations Management has powerful management tools that eliminate manual processes and give you greater control over your operations.
Use Sage 100cloud with Sage Operations Management to:
Optimize both your short and long-term business performance by streamlining invoicing and eliminating accounting errors.
Provide detailed and accurate tracking and reporting throughout the entire production process—from forecasting and scheduling, through the shop floor and to delivery.
Simplify sales and order management enabling your team to close more profitable sales
Get the support you need with on-demand information that helps you optimize your production process for an on-time delivery.
Sage Operations Management is one of the most stable and feature-rich business management solutions available. Built for security and compliance, it can be customized to meet your unique needs, no matter what your goals. Sage Operations Management offers a wide range of integration capabilities, so you can be sure your organization and your people can stay competitive, grow successfully, and ultimately thrive.
As the number one manufacturing solution partner for 14 years running, our collective experience will save you time and help maximize your profits with Sage 100cloud discrete manufacturing software. Contact Vrakas/Blum today!